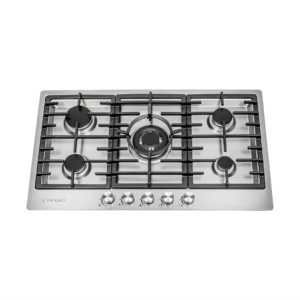 The Cosmo VA-S950M is a marvel of design and functionality. Manufactured from stainless steel and designed to lay flat completely on any counter top. This Cosmo cooktop is a gorgeous enhancement to any kitchen. The stainless steel finish of the cooktop pairs nicely with an array of counter top styles.
The durable metal knobs gives type of precise control demanded by serious cooks. Precision is key when you're dealing with five… yes five high powered burners.  Each burner has its own nuanced specialty. The triple ring burner is the jack of trades, capable of rapid heating as well as slow simmering. The rapid burner is prime for high heat cooking. If you're looking to cook at medium high then your best bet is the twin semi-rapid burners. For simmering and reheating the auxiliary burner is the best option.
Designed to highest of standards to provide its consumers with a unique cooking experience. The VA-S950M gas cooktop is bold, sleek, and simply impressive. Get your's today.